The best App for finding Drivers in Delhi NCR is here.
So whether you need a Permanent Driver for your daily commute or a Commercial Driver for your fleet of cars, here's an option where you can connect with multiple Drivers in Delhi NCR, within 5 minutes, in 5 easy steps and at less than Rs.500/-.
Have you ever wondered how difficult it is to find Drivers when you need one?
While looking for a Driver, some of  the usual ways that most of us begin with are:
Ask your Security Guard to spread the word around
Speak with the other Driver or Security Guards working in your neighborhood
Let your maid know that there's a need for a Driver
Call your friends and check with them if they know someone
Usually, we all end up taking similar steps to find Drivers.
And sometimes, if we are lucky, we ask our office admin to help us find one.
Once you've tried all the options, you try searching for the Drivers online, assuming there would be some answer there
When you search online, here are the options you end up finding:
The choice of known Cab Apps that picks you up from Point A and drops you at Point B
Drivers who are available on an hourly basis – This is a good option. However, only when you need someone temporarily to drive your car
However, if you own a car, more often your need for a Driver is not on an hourly basis. You need someone who can work for you on a permanent basis.
What you need is a Driver who:
Is available for you morning till evening, for 5-6 days a week
Knows the roads of the city
Has a valid Driving license, and
Drives your car carefully
And if your need is of a Commercial Driver for your fleet of Cabs, it is even more challenging to find one.
Well, this won't be the same for you from today.
It helps you to find Drivers in Delhi NCR in the easiest way possible.
'Helpers near me' has Mobile Apps, for both iOS & Android, that lets you find Drivers near you in just 5 minutes and 5 easy steps. Even the charges are nominal – only Rs.500/-.
Furthermore, it connects you with multiple Drivers near you, not just one of them, and all professionally verified.
Imagine connecting with multiple Drivers, within a few minutes.
Having this kind of choice only ensures that you get the best Drivers who meet all your requirements and also fits your budget.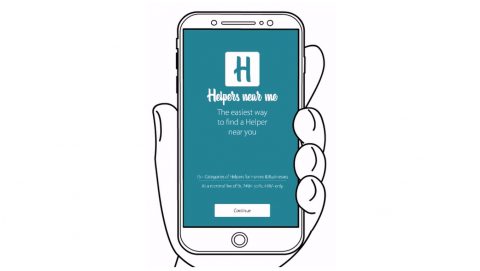 Here are some of the compelling reasons why you should try 'Helpers near me' when you are in need of finding Drivers in Delhi NCR:
It is convenient – At Helpers near me, you can find Drivers at your convenience. It is Easier, Simpler & Better. 5 minutes and just a click of a few buttons, that's all it takes to find a Driver on Helpers near me
Verified Drivers – Helpers near me verifies Drivers thoroughly. The platform follows a 2 Step Verification Process for every Driver. First, their IDs are verified. And second, their Criminal/Court Records are checked across thousands of District Courts of India. At an additional nominal fee of Rs.199/-, you can even get this detailed Background Verification report emailed to yourself
Drivers from nearby location – The App is designed in such a way that it allows you to find Drivers in your vicinity. It never connects you with Drivers who are far away from your search location
Offers choices of Drivers, even though you need just one – Helpers near me connects you with multiple Drivers in every order, and not only one of them. It offers a choice so that you get to pick the best one among all
Find Drivers from a vast pool of database – Helpers near me has thousands of Drivers associated with its platform. So, when you place an order, you connect with the best of the Drivers available within your vicinity
Nominal Charges only – You get to find multiple Drivers in just Rs.500/-. There is no additional fee. Rs.500/- is all it takes.
No Agents / Contractors in between – At Helpers near me, you get to connect with Drivers directly. There are no middle-men in between.
Now, compare this convenience with all the hassles that you had to go through earlier.
So, next time when you need to find Drivers, try Helpers near me.
Thus far, Helpers near me is the easiest way you can find Drivers near you.
Additionally, Helpers near me also lets you connect with over 75 different kinds of Helpers who work at Homes & Small Businesses. 'Helpers near me' is the easiest way you can find Helpers for your Home, Office or Business.
At Helpers near me, you can find Maids, Cooks, Babysitters, Office Boys, Delivery Boys, Waiters, Store Helpers, Peons, and many more such Helpers.
---
 Quick Links:
---
We recommend hiring Helpers from Helpers Near Me.
With a vision of eradicating Forced Labour, Slavery, Human Trafficking, and Poverty, INeedAHelp Technologies Pvt. Ltd. (Helpers Near Me), a few-year-old DIPP recognized startup, uses Advanced Digital Platform as a medium to provide Work Opportunities to the less educated Unskilled, Skilled & Partly Skilled Unorganized Workers from the Bottom of the Pyramid.
We do so by connecting the Workers directly with the Employer (Individuals, Families, Small Business Owners & Corporates), without any middlemen in between
It is an initiative towards organizing the life of underprivileged from our society. When you hire from Helpers Near Me, a Helper gets to find some work without paying commission to anyone. Furthermore, they also get to earn a full portion of their salary.
Many of them have also received Work Opportunities.
---