Whether a Cook for Restaurant or a Waiter or a dedicated Delivery Boy, the challenge is always the same in Noida – How to find them?
It is always a nice feeling to own a Restaurant in a metro city like Noida. And running the Restaurant successfully well is another level of achievement.
As a Restaurant Owner, some of the things you track almost every day are:
Serving the best of the foods to your Customers
Enough Customer walk-ins every day
Every Customer to leave your restaurant as a 'Happy Customer.'
Having decent ratings on favorite Apps
Good online reviews of your restaurant
Enough recommendations for your restaurant on your social pages
No negative publicity & a few similar other things
You try every bit to ensure your restaurant becomes a talk of the town for its ambiance, food, and space where people would want to come & spend some time.
However, in the process of trying to ensure everything works perfectly for your restaurant, there's one area of concern, which is always a big challenge for you & your restaurant managers – Finding your Staff & Helpers!
Having adequate Helpers & Staff for your restaurant is as important as ensuring great food for your Customers. When everything's going right for your restaurant business, you don't want your Helpers & Staff to be a concern for you, which in reality it always is.
Consider this:
One beautiful Saturday you reach your Restaurant. You are looking forward to the evening party that has been pre-booked at your place. You've arrived at your restaurant early, to ensure that everything is arranged much in advance so that nothing goes wrong when your guests are there in the evening. And then within an hour, you get a call from one of your lead Cook that he's not coming for the day, for some valid reason known to him.
Suddenly, your entire plans & arrangement goes for a toss. And since your reliance on your Cook was the highest, your complete plan has gone shaky just because one of the lead staff did not turn up.
Now, this could be your Cook, or the Waiter, or your Manager or just even a Delivery Boy, whose presence ensures that the Delivery Orders are furnished.
And this could be any of the days in the life of your restaurant.
So, in the end, what would you do?
How would you solve this immediate problem?
Here are some of the choices you have:
Call your friend who runs another restaurant in the other part of the city
Ask your manager to find one person asap
Ask your other Cooks who would know someone in any other restaurant
Check with your friendly neighborhood restaurant if he could lend you his Cook for one evening
You even connect with few agents or contractors who might help you with a handful of commission
No matter, what choice you opt for, it would still be a temporary fix for the immediate problem you have. In the end, you would anyway have to fix the problem permanently. Either you would scold your Cook who didn't turn up, or you would fire him, or you would find an alternative. And every option would still push you to 'finding a new Cook.'
And until the time you have your running restaurant, a problem like this would persist.
So, how do you fix this problem so you could focus on what's essential for your Customers & Restaurant?
How do you attend this problem in a such a way that this gets fixed permanently?
It helps you to find a Cook for Restaurant in Noida in the easiest possible way.
'Helpers near me' has Mobile Apps, for both iOS & Android, that lets you find a Cook for Restaurant in just 5 minutes.
Even the charges are nominal – less than Rs.500/-.
Furthermore, it connects you with multiple Cooks for Restaurant, not just one of them. Having this kind of choice ensures that you get the best Cook for Restaurant who understands your Restaurant's need & taste better.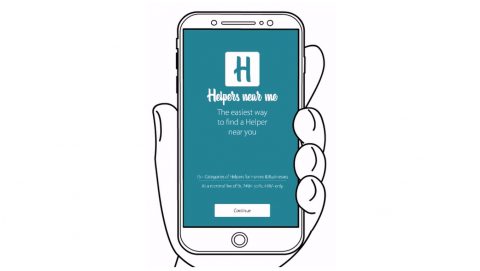 Here are 7 compelling reasons why you should try

Helpers near me

when you need to find a good Cook for Restaurant in Noida
It is convenient – At Helpers near me, you can find Cook for Restaurant at your convenience. It is Easier, Simpler & Better. 5 minutes and just a click of a few buttons, that's all it takes to find a Delivery Boy here
Professionally Verified Cook for Restaurant – Helpers near me verifies every Restaurant Cook's background thoroughly. The platform follows a

2 Step Verification Process

for every Restaurant Cook. First, their IDs are verified, and second, their Criminal/Court Records are checked across thousands of District Courts in India. At an additional nominal fee of Rs.199/-, you can even get this detailed Verification report emailed to yourself
Connect with nearest Cooks for Restaurant – Helpers near me lets you find the Delivery Boys who stay closer to your restaurant.
Offers choices of Restaurant Cooks, even though you need just 1-2 Boys – Helpers near me connects you with multiple Delivery Boys in every order, and not only one of them. It offers choices so that you get to choose the best one among all the available options
Find Cooks for Restaurant from a vast pool – Helpers near me has hundreds of Restaurant Cooks connected with its platform. So, when you place an order, you get the best of the choices available on the platform
Nominal Charges only – At Helpers near me, you get to find multiple Restaurant Cooks at less than Rs.500/-. You don't need to pay anything further. Less than Rs.500/- is all it takes.
No Agents or Contractors in between – At Helpers near me, you get to contact Restaurant Cooks directly. There's no middle-men in between.
Now, imagine this kind of convenience and being able to find a Cook for Restaurant in just 5 minutes.
This sort of convenience on your mobile phone solves all the trouble, which you had to take otherwise.
So, when you need to find a Cook for Restaurant for your Restaurant in Noida, try Helpers near me.
By far, Helpers near me is the easiest way you can find a Restaurant Cook near you.
So if you are still relying on references or contractors, try Helpers near me before you try anything else.
---
Quick Links:
---
We recommend hiring Helpers from Helpers Near Me.
With a vision of eradicating Forced Labour, Slavery, Human Trafficking, and Poverty, INeedAHelp Technologies Pvt. Ltd. (Helpers Near Me), a few-year-old DIPP recognized startup, uses Advanced Digital Platform as a medium to provide Work Opportunities to the less educated Unskilled, Skilled & Partly Skilled Unorganized Workers from the Bottom of the Pyramid.
We do so by connecting the Workers directly with the Employer (Individuals, Families, Small Business Owners & Corporates), without any middlemen in between
It is an initiative towards organizing the life of underprivileged from our society. When you hire from Helpers Near Me, a Helper gets to find some work without paying commission to anyone. Furthermore, they also get to earn a full portion of their salary.
Many of them have also received Work Opportunities.
---