Worried about finding a reliable Babysitter in Delhi NCR? Isn't it challenging to find one?
Try Helpers Near Me and connect with multiple Babysitters in just a few minutes.
Reliable Babysitter – I need one today! 
Have you ever wondered, when this thought pops up in your mind, what choices you have?
The obvious answers are:
Ask the neighbors, friends or family living in the City
Check with your current Maid if she knows someone
Leave a note with your friend's Maid
And then after all this, you wait till someone shows up on your doorstep.
It is even more challenging if you want a live-in Babysitter.
Question is if booking a movie ticket or ordering food could be so easy, why can't finding a reliable Babysitter, Maid, Cook, Driver or a Helper be as easy?
Well, from today, you have an option.
Helpers Near Me is a few years old, DIPP recognized social startup. The platform works closely with the Government and a few NGOs to help the Blue-collar workers in local employment.
It enables the Workers in finding local employment, free of cost.
In turn, it helps Employers like yourself in finding workers near you, without any middlemen in between.
The platform that makes it easier for anyone to find a reliable Babysitter, Maid, Cook, Driver or other Helpers in Gurgaon.
There are no Agents, Contractors or Commissions involved in between.
Helpers Near Me is a simple platform that connects you directly with reliable Babysitters within your vicinity.
Here's a real story in brief that explains the concept of Helpers Near Me better: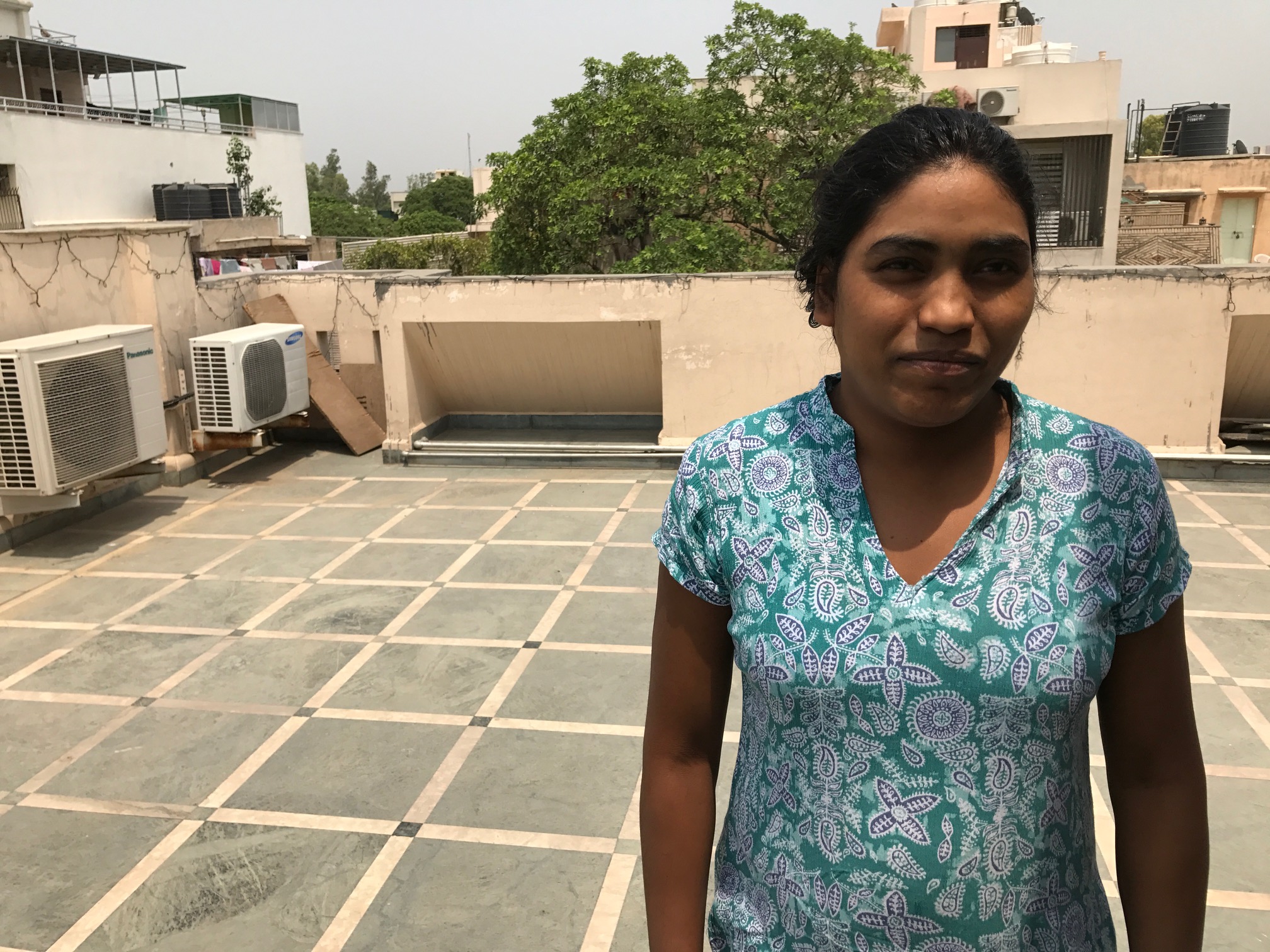 Meet Siso, a girl from Jharkhand, who came to Delhi in 2015.
She was in need of a job that could fetch her some money. Siso wanted to take care of herself and send a little saving to her parents in her village.
She was not a Babysitter by choice. She always wanted to be a Sports Athlete and wanted to represent her college at the State level. And finally wanted to join forces or the police as a career.
But her financial situation at home brought her to Delhi. She had to give up on her career to earn her living & support her parents back home in the village.
Thankfully, Siso came across our representative, got herself registered at Helpers Near Me. She did not pay any amount of money to anyone to be a part of Helpers Near Me. She joined the platform free of cost and at her own will.
After a few weeks of her registration at Helpers Near Me, she got connected to a family in South Delhi where she currently works as a Babysitter.
The family was accommodating enough to ensure she studies whenever she gets some time.
Now, Siso earns her living, sends money to her parents and is also preparing for the career she had always dreamt of.
Come to think of it:
Is this the reality for many other Maids, Babysitters or Helpers out there?
How many Babysitters do we know who gets a decent family to live with, gets some decent money and is also allowed to pursue her career simultaneously?
Do they all work without the pressure of an Agent/Contractor?
How many of them get to take their full salary home and not share it with any agents in between?
Today, the reality is that many Helpers end up paying a decent portion of their salary to Agents or Contractors in between.
And this is not just for one month. Many Helpers get only a portion of their hard-earned salary, every month.
9 solid reasons why you should try

Helpers Near Me

when you need to find a Babysitter in Gurgaon:
1) The platform is helping the Babysitters & other Blue-collar Workers –
Through mobile & web technology, Helpers Near Me is trying to help the less educated underprivileged Workers. The platform is helping them find Work Opportunities by connecting them directly with you. Helpers register here free of cost and on their free will
2) Convenient, Easy & Organized
At Helpers Near Me, you can find reliable Babysitters or Maids at your convenience. It is Easier, Simpler & Better. 5 minutes and just a click of a few buttons, that's all it takes to find a Babysitter here
3) Professionally Verified Babysitters, Safe Hiring
Helpers Near Me verify the background of every Babysitter thoroughly. The platform follows a 2 Step Verification Process for every Babysitter. First, their IDs are verified. And second, their Criminal/Court Records are checked across thousands of District Courts in India. At an additional nominal fee of just Rs.199/-, you can even get this detailed Background Verification report emailed to yourself
4) Connect with the nearest Babysitters 
The platform works in such a way that it lets you find multiple reliable Babysitters in the vicinity of your house or search location.
5) Offers a choice of Babysitters, even though you need one 
Helpers Near Me connect you with multiple Babysitters in every order. It gives choices so that you get to choose the best one among all the available options from around
6) Find best-rated Babysitters from a vast pool 
Helpers near me has hundreds of Babysitters registered on its platform. So, when you place an order, you get the best of the choices available on the platform
7) Nominal Charges only
At Helpers near me, you get to find multiple Babysitters at less than Rs.500/-. And once you hire your Babysitter from the available options, you don't need to pay anything further. Less than Rs.500/- is all it takes
8) No Agents or Contractors in between
At Helpers near me, you get to connect with all the Babysitters directly. There are no middle-men in between. This option saves the additional commissions that you would have to pay otherwise if you approach them.
9) Babysitter earns her full salary
The process at Helpers near me ensures every Babysitter gets a full portion of her hard-earned salary
So, next time when you need a reliable Babysitter, a Maid or a Nanny, try looking for one at Helpers Near Me.
It brings together thousands of such Babysitters, Maids, Cooks, Drivers, Delivery Boys and many more such Helpers.
They are just waiting for one opportunity that could help them live a better life, without paying commission to anyone.
---
Quick Links:
Find Blue-collar workers near you, try Helpers Near Me.
Check what's trending among blue-collar workers around your location – Avg. Salaries, Avg. Age, Distance to work, etc.
Read some of our Customer Reviews. Find what they have to say about Helpers Near Me.
Verify the credentials of your Maid, Driver, Security Guards, Babysitters, Cooks, Gardener or any other workers, try the Professional Verification Services of Helpers Near Me.
---
We recommend hiring blue-collar workers from Helpers Near Me.
With a vision to end poverty, forced labour, worker's exploitation, and human trafficking, Helpers Near Me is working towards creating an ecosystem of inclusive economic growth for the unorganised workers.
Helpers Near Me uses complex algorithms via its different digital platforms as a medium to enable the less educated, or uneducated, unskilled, partly skilled or skilled unorganised workers to find nearby Work Opportunities.
In turn, the platform helps Employers like yourself to find and hire nearby Blue-collar workers, without the middlemen in between.
Many of the workers have also received work opportunities.
---