If you are searching for reliable online Helpers near you, chances are that your need is urgent.
Whether for a Domestic need or Helpers for your Business, try

Helpers Near Me

today and save the troubles of running around just to find them.
Have you ever wondered how difficult it is to find a reliable Helpers near you?
It seems even tougher when you need one urgently.
Remember the last time when you were trying to look for Helpers, what all you had to go through.
First, you had to ask your neighbors if they know someone.
Second, you had to leave your requirement to the nearest security guard you had come across.
Third, if you had to reach out to all your friends in similar nature of a business
And Fourth, in spite of all this, you had to wait for a minimum few days until someone showed up.
By that time, your need for a Helper had become so urgent that you ended up hiring the first or the second one who met you.
And as soon as your problem of finding a reliable Helper got resolved, you did not bother too much about getting the background verification done for the person you hired.
After a few days, you were, sort of, okay with his/her work. And that was enough for you to move on with your life.
Until one day, when the person left again and the whole process had to be repeated again.
Come to think about it, this whole process of "finding Helpers" is always taxing and more so very time-consuming.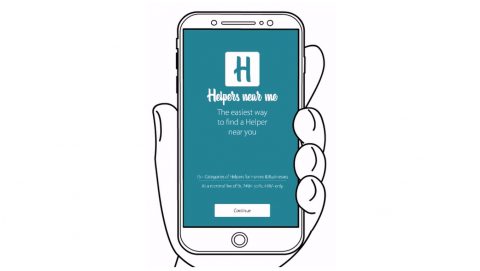 From today, you would not have to go through such a detailed process to find a reliable Helper near you.
And you can find many different kinds of Helpers at Helpers Near Me – Domestic Workers, School Helpers, Store Helpers, Factory Workers, Private Drivers, Commercial Drivers, Restaurant & Hotel Workers, Office Workers & many others.
Just follow these 5 really easy steps, and you should be able to find multiple online Helpers near you, within 5 minutes.
Helpers Near Me makes it very easy for you to find a Helper near you. It helps you connect with multiple Helpers near your search location, that too within 5 minutes.
Step 2: Enter your search keyword and submit your request
Search keywords like House Cleaning Maid, Full-time Maid, Part-time Maid, Babysitter, Cook, Private Driver, Store Helpers, or whoever else you might be looking for.
The App would automatically fetch you relevant keywords based on what you type.
Over here you also have the option to refer to the detailed list of Helpers available on the platform.
Helpers Near Me lists about 75+ different kinds of Helpers who work in Domestic or a Workplace environment.
Step 3: Confirm your location
Helpers Near Me automatically detects your current location, however, if you want the App to help you find a Helpers in any other location, you may have to feed the place manually.
In case if you are using the website for this, you may have to feed in the area manually.
Once you confirm the location, the Apps would automatically search for Helpers around your neighborhood and show you the available results.
The results would appear like: "We can connect you to 8 Cooks (7 within 1-km radius & 1 from beyond)
Step 4: Press "Connect" or "Preview your Active Contacts."
Over here you would have an option of checking the search results before you make the payment.
You can see all the details about the Maids that the App has searched for you – like Age, Experience, Address, ID and also their different rating based on your need.
Once you hit the "Connect" button, the App would reflect a nominal fee for connecting with Helpers near you.
The fee is usually less than Rs.500/-. The App again asks you to hit the "Connect" button for the next step.
Step 5: Pay & Get the Contacts of Helpers near you
Here you would have an option of making the online payment through your Credit or Debit Card, Net Banking or your Paytm account.
Once you have paid the amount, the App automatically gives you the details of all the 4-8 Helpers. The particulars capture their Names, Phone numbers, Age, Address, ID details, etc.
Now, this may seem like a lot of words, but in reality, all of this happens very swiftly. Within 5 minutes, you get the list of Helpers near you.
Now, compare this with all the hassle you had to go through when you were looking for a Helper earlier – a lot of references here & there, long wait and in the end only 1-2 Helpers who knock the door, etc.
On the contrary, if you try Helpers Near Me, you would save all the trouble you had to go through before finding a Helper near you.
Here's a brief video that explains everything in just about 2 minutes.
Here are 10 benefits of trying Helpers Near Me when you need to find a good & reliable online Helper:
1) It is Convenient & Easy to Use
At Helpers Near Me, you can find Helpers at your convenience.
It is Easier, Simpler & Better. 5 minutes is all it takes to find a Helper on Helpers Near Me
3) Connect with the nearest Helper
Helpers Near Me connects you with multiple Helpers available in your vicinity.
By far, this App is the most convenient way one can find a Helper from nearby.
4) Nominal fee only
In life, many things costs, but some of the things in life should not cost you as much.
More so when you are helping somebody by giving the person a source of income and a means to live a better life.
At Helpers Near Me, you can connect with multiple Helpers at less than ₹500 only.
There are no additional charges beyond what you pay while placing your order.
You, as a Customer, are free to hire whoever you like. You can hire just one or even 1-2 of them if you wish to.
5) Find your Helper from a vast pool of people
Helpers Near Me has thousands of Helpers registered on its platform.
They've all become a part of Helpers Near Me willingly, so that they could get in touch with nearby Employers directly, without any middlemen in between.
So, when you look for online Helpers at Helpers Near Me you get to connect with the best ones and the nearest ones to you.
6) Professionally Verified Helpers only
Helpers Near Me follows a 2 Step Verification Process for every Helper registered on its platform.
Every Helper's IDs & Criminal/Court Records gets checked in detail.
And at a nominal fee of Rs.199/-, you also get access to the detailed report on the Helper's background, which is sent to your email address.
This kind of a professional check not only ensures faith for the Helper but also provides the necessary security to you as a Customer.
7) Choice of finding multiple Helpers
With every search, Helpers Near Me connects you with multiple Helpers from around your search location.
Imagine connecting to several Helpers at the touch of a few buttons only.
And since your requirements from your Helper is very specific, so the platform lets you call & connect with all the Helpers.
Directly connecting with the Helpers makes it easier for you to discuss your specific requirements with all of them.
Even the salary part is left in between You & the Helper to decide so that you get to find one who fits your budget. Likewise, the Helper gets the salary that he/she wants.
This process ensures you get to pick the best reliable Helper among the connects provided.
8) Free of Cost service for Helpers
Every Helper registered at Helpers Near Me comes on board without paying any money to anyone in between.
Helpers Near Me offers a 'Free of Cost' service for the Helper & all the other Workers who are registered on the platform.
Likewise, it is a service available to You at a very nominal fee.
9) No Agents, Agencies or Contractors in between
There are no middlemen involved in the entire process of connecting the Helpers to You.
Helpers Near Me never works as an Agent or a Contractor. It is a free platform for all Unorganized Workers (Helpers, in this case).
They can become a part of the system and connect with nearby Employers (You, in this case) directly.
10) Social Enablement to the Helpers
Helpers Near Me is striving to provide the Helpers a professional way to find Work Opportunities.
In many cities, Helpers end up paying a hefty commission to agents & contractors just to get some work.
But when they register at Helpers Near Me, they get Work Opportunities directly from the Customers (You, in this case), without paying any money to anyone in between.
This process saves them a lot of time, money and energy for them as well.
Imagine this kind of convenience on your mobile phone, and being able to find a good reliable online Helpers so easily in just 5 minutes.
This sort of comfort solves all the trouble that you had to take otherwise to find a Helper.
So, next time when you need to find Helpers, try Helpers Near Me.
By far, Helpers Near Me is the easiest way you can find a good reliable Helper near you.
---
Quick Links:
# To find Blue-collar workers near you, try Helpers Near Me.
# To verify the credentials of your Maid, Driver, Security Guards, Babysitters, Cooks, Gardener or any other workers, try the Professional Verification Services of Helpers Near Me.
---
We recommend hiring blue-collar workers from Helpers Near Me.
With a vision to end poverty, forced labour, worker's exploitation, and human trafficking, Helpers Near Me is working towards creating an ecosystem of inclusive economic growth for the unorganised workers.
Helpers Near Me uses complex algorithms via its different digital platforms as a medium to enable the less educated, or uneducated, unskilled, partly skilled or skilled unorganised workers to find nearby Work Opportunities.
In turn, the platform helps Employers/Customers find and hire nearby Blue-collar workers, without the middlemen in between.
Many of the workers have also received work opportunities.
---